We are incredibly happy to announce our partnership with Jurlique!
Radiant Massage Therapy™ is a certified Jurlique Spa provider and is committed to the use of the best available products for your treatments and services. The products smell incredible and the products lines are simple, clean, and beautifully made.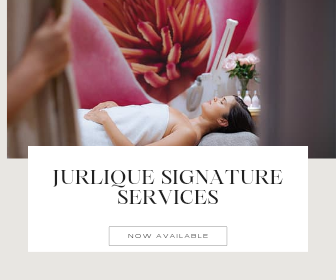 Calming Lavender Mud Wrap: Escape from daily stress and find your balance with this tranquil body envelopment. Calming and soothing Lavender extract is paired with thick, rich moor mud wrap. Loaded with trace elements and essential minerals, impurities are released as your mind drifts off, to leave skin feeling renewed and refreshed with a beautiful sense of calm.

Softening Rose Body Treatment: Buff away dry, rough skin while infusing the body with layers of rich moisture. This decadent, hydrating body treatment pays tribute to the Rose, queen of the botanicals. This precious rose extract, grown on our farm in the South Australian Hills, offers softening, balancing, and nurturing benefits. Avocado and macadamia nut oils, rich in essential fatty acids, help to improve tone and resiliency.

Smoothing Body Exfoliation: This skin-silkening body exfoliation is infused with our hand- picked botanical extracts. Simply select your aroma for a garden- fresh experience…Rose (The Queen of botanicals, known for its richly soothing aroma), Lavender (The blossoming herb of serenity thought to cleanse both mind and body), Citrus (The invigorating essence of citrus is a brightening tonic for senses), Lemon, Geranium & Clary Sage (An aromatic delight, balanced by notes of fruit, flower and herb).

Learn more about Jurlique and their Bio-Intrinsic method, certified organic farming methods and their beautiful face and body products.