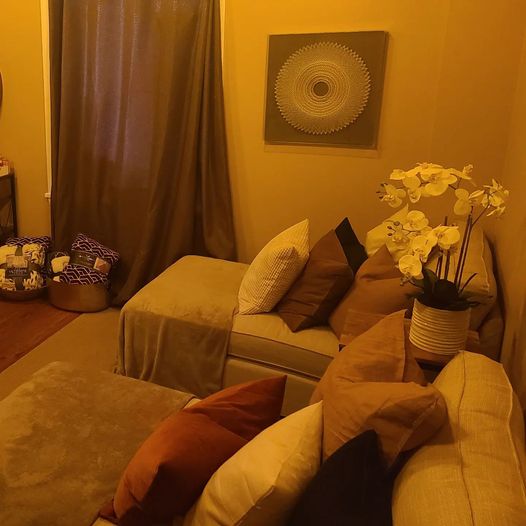 WELCOME TO
RADIANT MASSAGE THERAPY
Come on in! You can take a seat in any of our comfy chairs or chaise.
Don't worry- You aren't interrupting any sessions. We just like a relaxing, dark space.
In the rare chance the door is locked, we are likely in a session and will be with you momentarily.
---
Wellness Packages
January is a month of reflection and advocating for new ventures in our lives for self improvement. We fully support incorporating Massage Therapy with your resolutions!
We are here to help you feel your best so that you can be your best self. Without excessive stress or persistent pain, you can be your best for your work, your family, your children, and to be the best for you.
Learn more about our Wellness Packages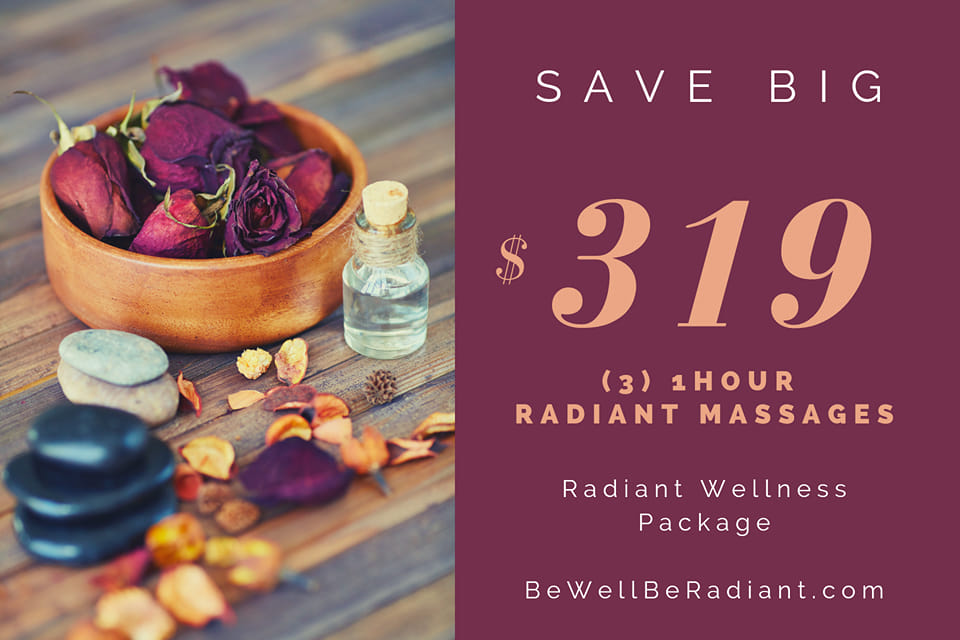 ---
COMING IN FEBRUARY
---
Galentine's Day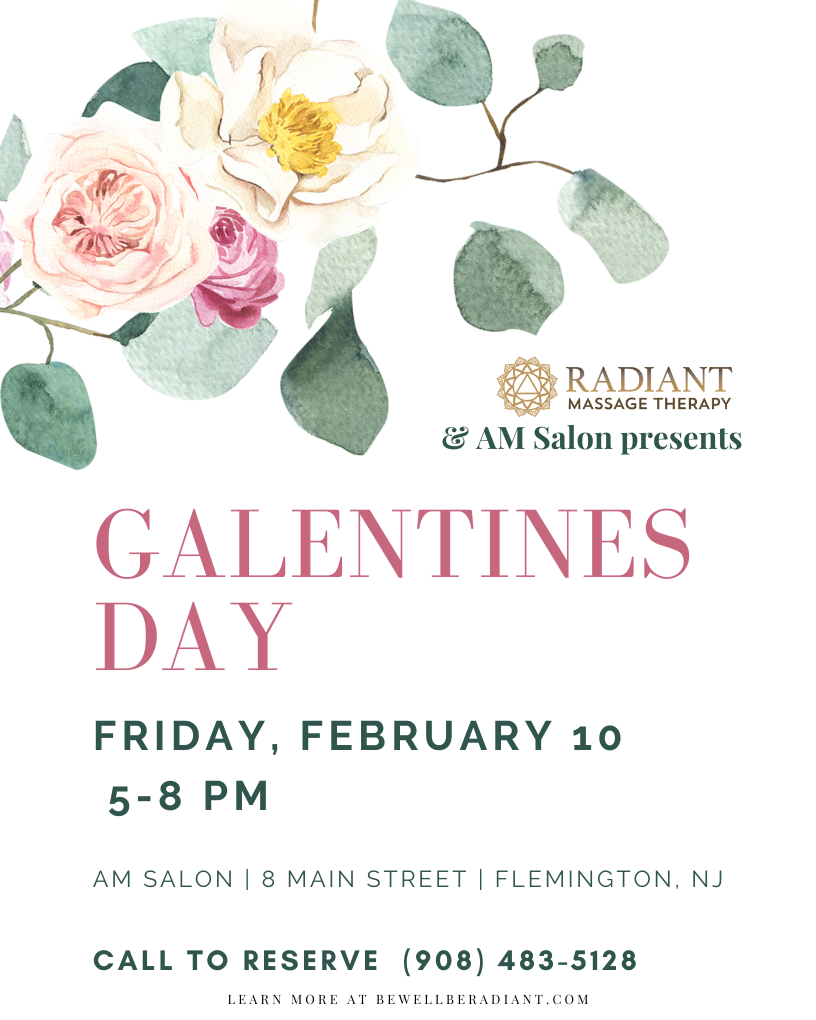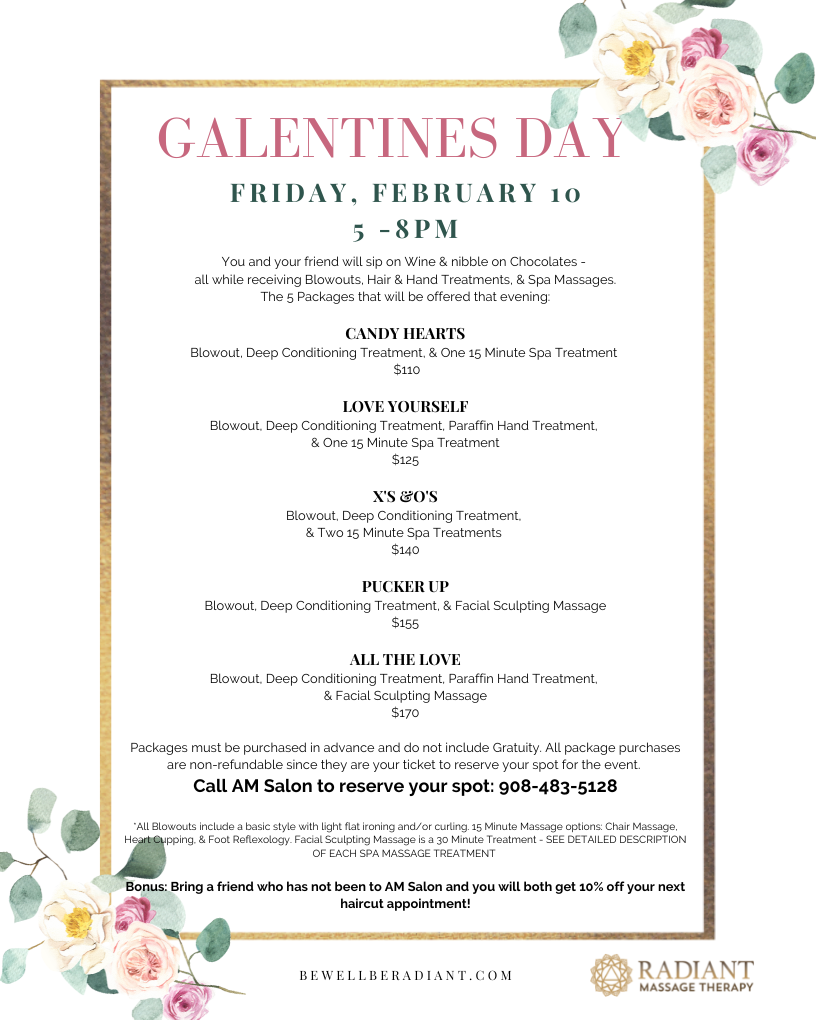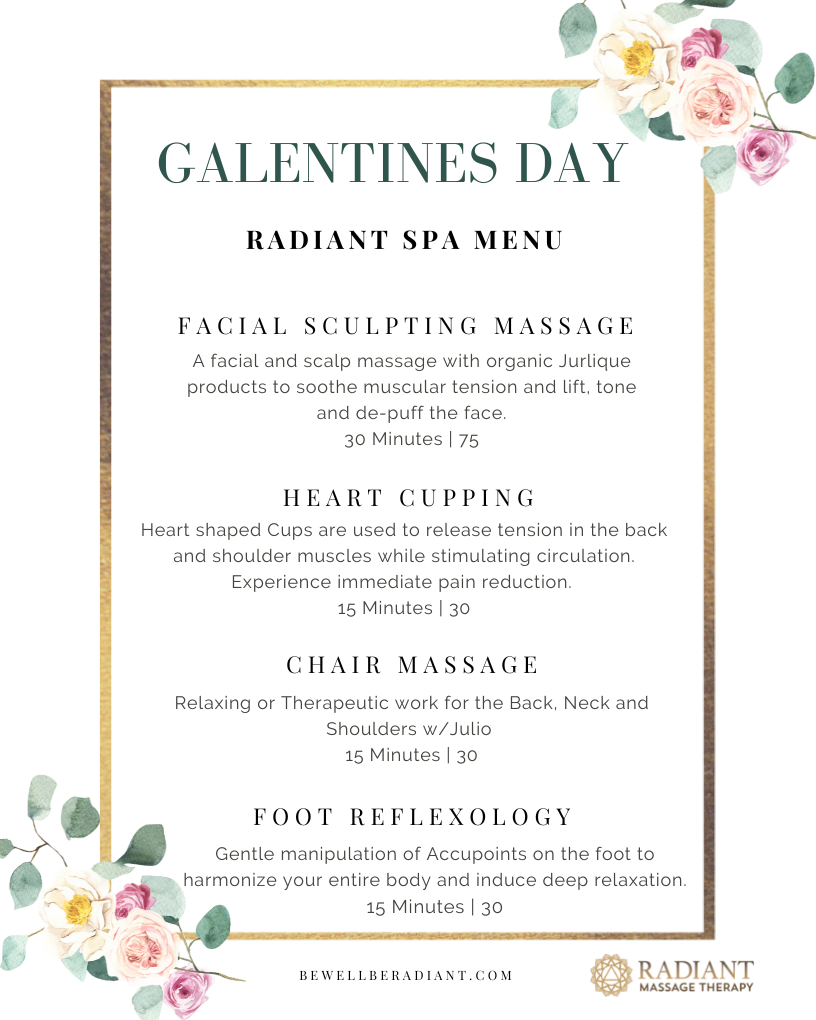 Valentine's Day Couples Massage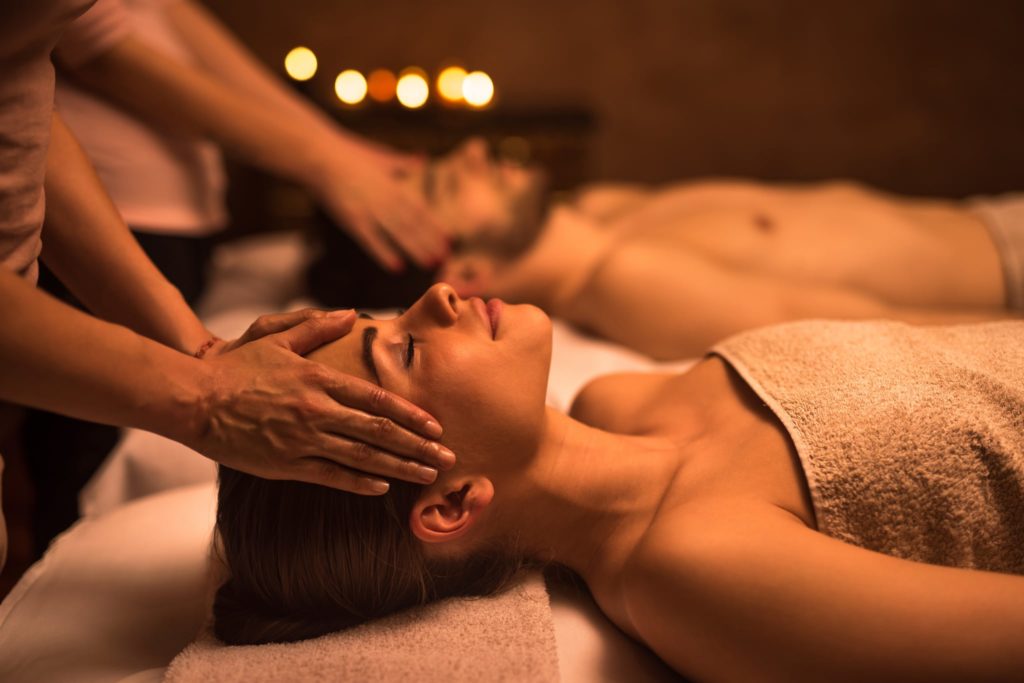 Whether you are seeking to strengthen your relationship, celebrate a special occasion, or simply looking for something fun to do with your significant other, a couples massage is the the perfect plan. At Radiant Massage Therapy, we love helping our clients relax and connect with their partners, and we understand the healing benefits that come with it.
We love adding special surprises for our guests! Our Couples Massage ends with your choice of Sparkling Wine or Seltzer, Chocolate Covered Strawberries and cool aromatic towels. Availability is Limited.
---
Organic Vanilla Infused Jojoba Oil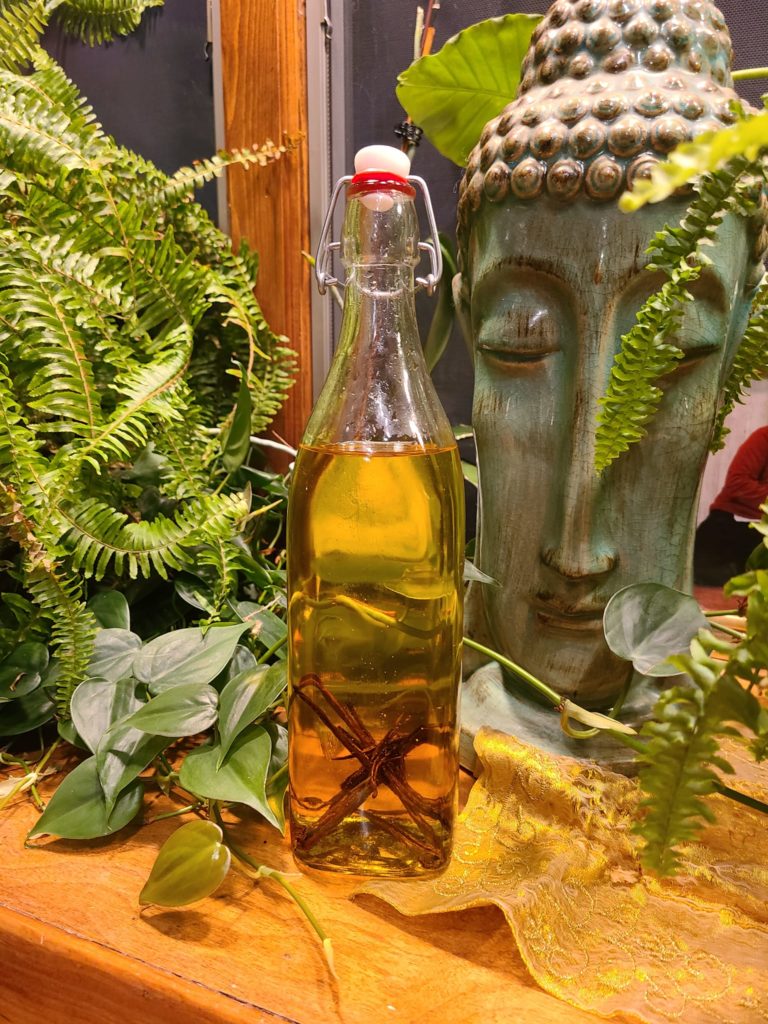 Lovingly handcrafted for our lovely clients in February. It's a project of patience as it'll take about 2 weeks to be ready.
Jojoba Oil is very close to our body's natural oil (sebum) and is absolutely wonderful for the skin. It is rich in oleic acid and antioxidants, like Vitamin C, which protects the skin from sun damage and premature aging. Topically, it can also be used as an analgesic (reduces pain) to help soothe ache muscles and joints.
---
Heart Cupping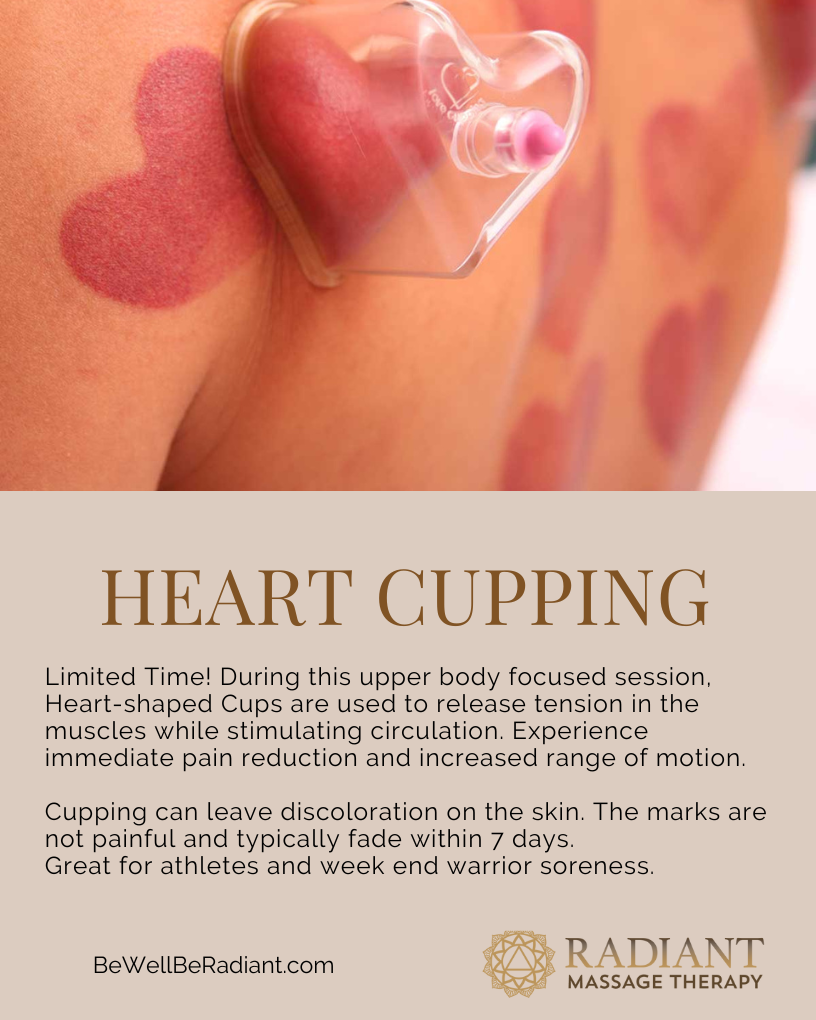 Try this 45min therapeutic session for quick and effective pain relief. If you are returning to the gym after a short… or not so short break, and are starting to feel soreness, an accumulation of lactic acid, or an increase of rigidity. TRY CUPPING!
We can incorporate Deep Tissue techniques and Stretching to get you to a good place with your body.
---
Facial Sculpting Massage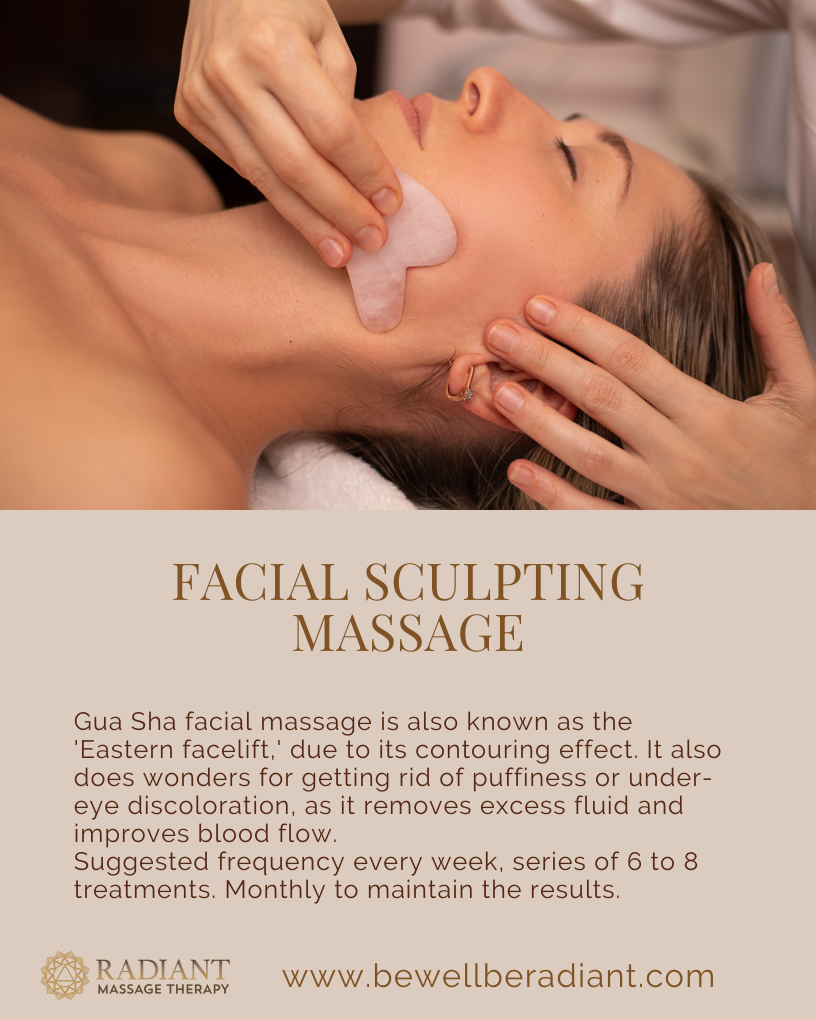 Are you looking for an alternative to Botox for anti aging and keeping a youthful appearance?
Studies show that Gua Sha & Facial Massage is incredibly beneficial for lifting and toning the face.
Mindfully cleansing and applying moisturizer in your daily routine, when done correctly, is an opportunity for preventing fine lines and wrinkles, boosting collagen and having a glowing complexion.
This is different than a facial! Facial Massage targets overused muscles and fascial adhesions. This can be beneficial to relieve symptoms from TMJ, sinus pressure and tension headaches. I can teach you basic massage techniques that you can incorporate into your everyday face routine.
Ask us to incorporate Gua Sha into your massage service for increased collagen production, decreasing the visibility of fine lines and wrinkles, ease facial tension and experience a face lifting effect! With allergy season right around the corner, this is a really great treatment to help decongest the sinuses, decrease puffiness, and congestion. Btw- NO UPGRADES! We don't charge extra for unique add-ons or special touches!
Tania has extensive product knowledge, a bag of unique techniques and 17 years of experience. She's still adding to her arsenal of modalities!
Ask us about Facial Gua Sha, Facial Cupping and Facial Sculpting!
---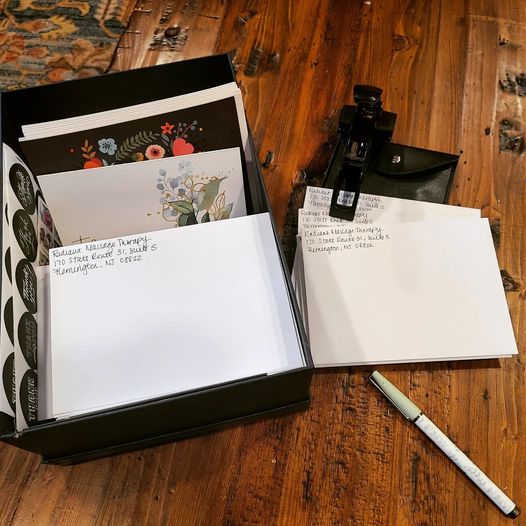 Did you know? We hand write each of our Thank You cards for our first-time clients. That's over 1k and counting!
We genuinely believe in manifesting gratitude and being appreciative of our clients. We strive to make your visits to Radiant Massage Therapy as memorable, healing, and nurturing as possible.
That includes personal touches to let our clients know how special they are.
---
OUR COMMITMENT TO EDUCATION
---
We are happy to share that we have expanded our training to accommodate for your specific medical conditions, injuries, and preferences. We have been thinking of you and what we could do to improve your experience to better impact your health, well-being and overall results of your session.
We have completed additional training hours and obtained Certification and/or Certificate of Completion for the following modalities:
Sobe Tan certified Spray Tan Artist
The Science of Cupping Therapy
Cupping Therapy and Your Massage Practice
Gua Sha Sculpting and Acupressure for Face Lifting
The Ultimate Gua Sha/Jade Rolling Certificate
Facial Cupping Massage Certificate
Gua Sha Facial Massage Certificate
Pro Facial Tips for Gorgeous Skin at Home
Jurlique certified Beauty Expert
Bellabaci Training
Kneipp Training
Ethical Dilemmas Fully Exposed
Thriving in the Age of Covid-19
Cancer and Massage Therapy: Treatments Part II
Note from Tania: Every body is unique and your massage deserves to be personalized.
I love learning new approaches and refreshing my massage routine so I have many techniques to choose from. I've been a Licensed Massage Therapist for 17 years and still absolutely love what I do. I won't fall into a rut or give the same massage over and over. I complete class after class after class. This is what drives me and what excites me. I can't wait for you to be on the table! I am committed to my education so you benefit the most from your session.
---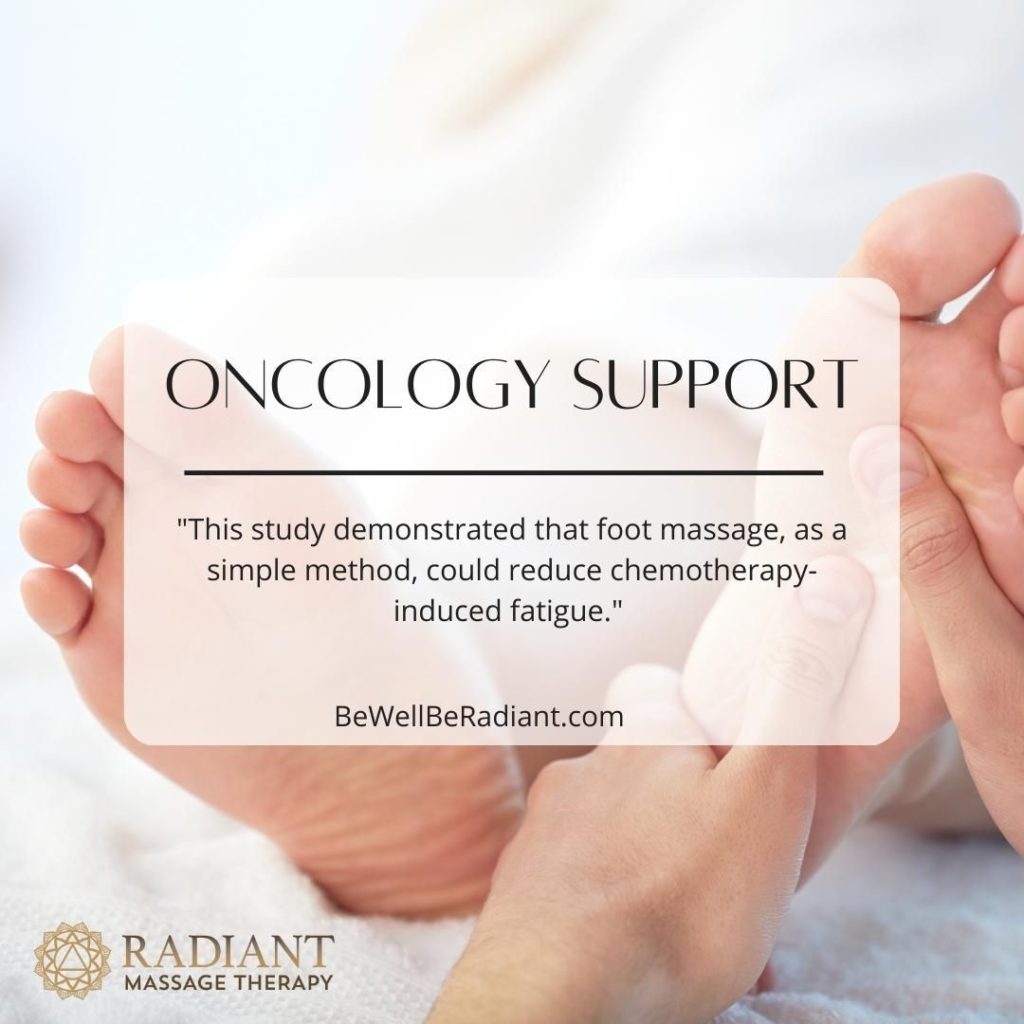 Positive results were shown after intervention group received four sessions of foot massage with interval of 40 minutes during chemotherapy. Fatigue was measured using the visual analog scale to evaluate fatigue severity directly after intervention and 24 hours after chemotherapy. Fatigue scores in the intervention group decreased gradually while fatigue scores in the control group increased.
Source: "The effect of massage therapy on fatigue after chemotherapy in gastrointestinal cancer patients." Support Care Cancer. 2021.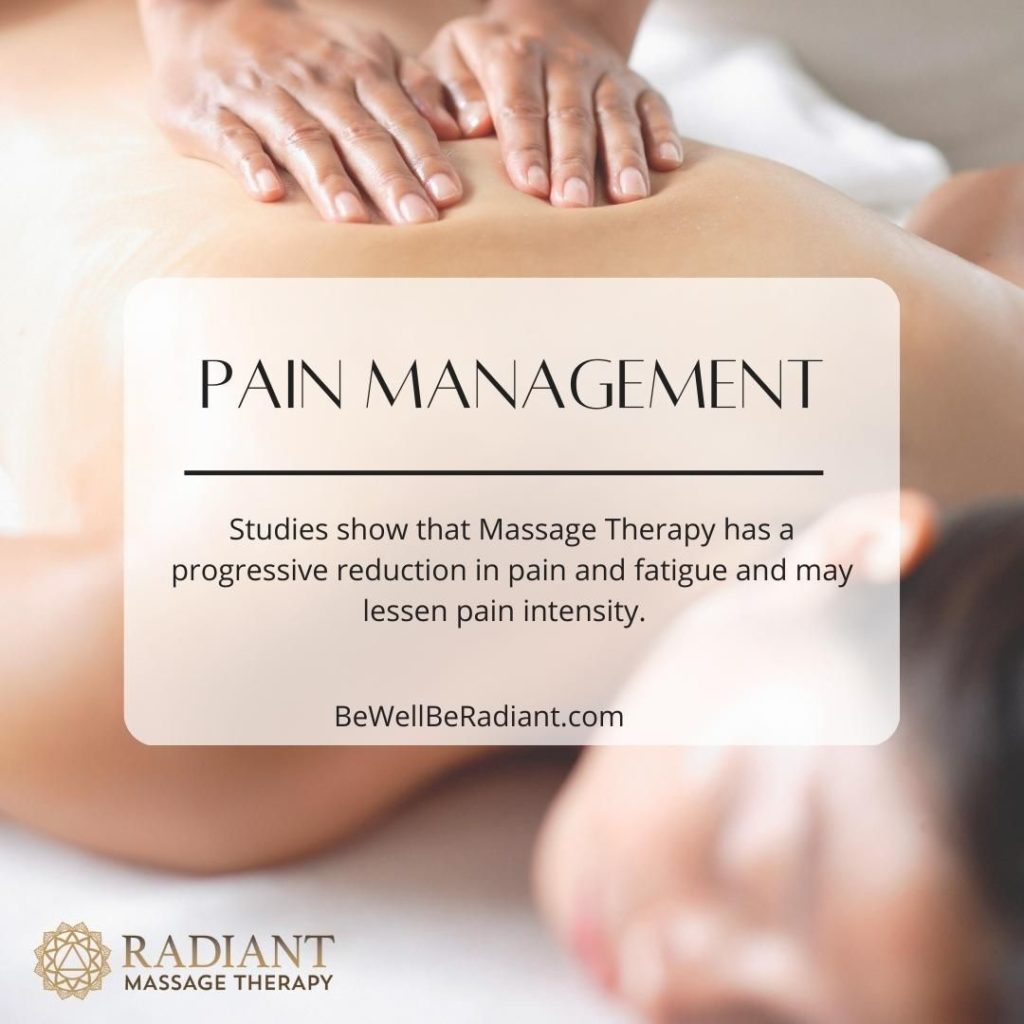 "Light massage was more effective and persisted longer than the music therapy for controlling leukemia-related pain and fatigue in adult patients with acute leukemia."
Source: "Slow-stroke back massage compared with music therapy for leukemia-related pain and fatigue: a randomized controlled trial." JCO Oncol. Pract. 2021. NOV; 17 (11)
---
REIKI BALANCE with Chuck Burt
Available: January 20 & 27
A therapeutic alternative to physical touch is an energetic approach known as Reiki. If you suffer from grief, trauma, or an over- abundance of energy that does not serve you, we suggest that you try a Reiki session. Help rid the bad juju, weird vibes, or even the evil eye… while calming the body and bringing it back to energetic balance.
Clients have experienced a deep sense of calm, a warmth over the body, or even a deep pressure… all without even being touched. It's a cool experience and a different perspective on how to approach healing.