The end of summer is quickly approaching but it means wonderful new things are near… the gorgeous change of the leaves, pumpkin spice lattes, cozy sweaters and football.
I have not been idle, and I have been working on a few new treatments for you… Thermotherapy, Abdominal Massage & Slimming Seaweed Wrap.
I've tied in physiological reactions with aromatherapy to create a therapeutic approach to chronic inflammatory conditions and gastrointestinal pain. By playing with temperatures, Thermotherapy creates a dynamic, sensorial experience. By focusing on the trunk region, and energetic meridians that are tied to gastrointestinal balance, Abdominal Massage creates a multi -faceted approach that hits the many levels of complexity that is IBS. Slimming Seaweed Wrap is the most potent body wrap being offered at Radiant Massage Therapy, in that it is really geared towards weight loss, toning and tightening. It can reduce full body muscular pain and stiffness and deep therapeutic results within the body tissues.
These therapies are currently available at BeWellBeRadiant.com and you can schedule at your convenience. Please note, the schedule is being filled more quickly and I encourage you to book early. I am thankful for your support, and I am excited to see you soon!
New Radiant Services & Enhancements: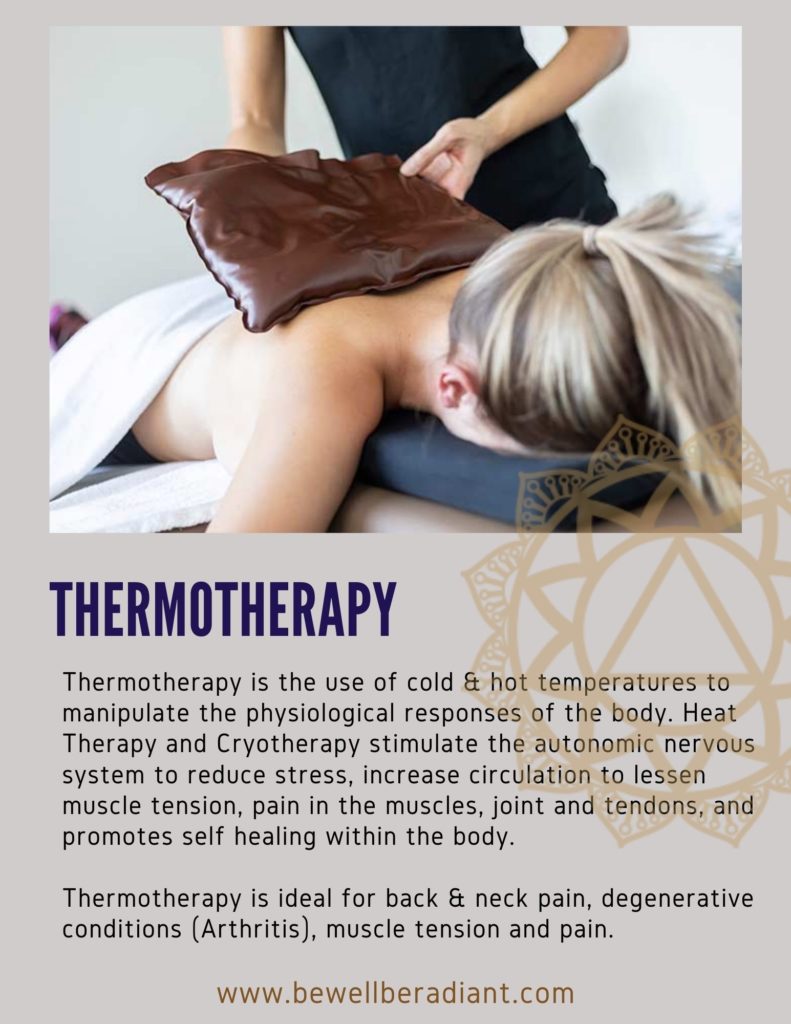 Thermotherapy is an interchange of hot stones, cryotherapy balls, herbal heat packs, and cold gel packs. Thermotherapy is designed to play with the body's thermal regulatory process. The hot and cold applications manipulate the vasodilation and vasoconstriction of blood vessels to create a pumping motion. This is incredibly effective in simulating the Lymphatic system, which tends to be a more "sludgey" system as it is responsible for extracting miscellaneous waste throughout the body.
The applications of wet and dry heat effect the body systems differently. Dry heat impacts the overall body temperature and creates a reddening and flushing by increasing the surface circulation of the skin. The increase of circulation brings a rush of oxygenated blood to the upper dermal layers and increases the appearance of the skin. The wet heat application impacts deeper tissues, adding to the malleability and softening of tense muscles. Once the muscles are relaxed, it allows for easier accessibility to chronically tight tissues. Heat satisfies our subconscious need for comfort, relaxing the nervous system, and inducing a state of calm and relaxation.
The warm massage is enhanced with a refreshing blend of Arnica, Sesame and Magnesium oils with an aromatic blend of Rosemary 1,8 Cineole, Black Pepper and Bergamot. Together this oil blend is rich in antioxidants, high in magnesium, zinc and copper minerals and is designed to decrease muscle pain, spasms. cramps, fatigue and increase the circulation.
Cold application is used to locally target areas of inflammatory concern, typically around joints and areas of chronic swelling. Cryotherapy is used to decrease pain and stop the inflammatory process.
An aloe vera gelly and cooling oil blend of Lavender, Peppermint, and Roman Chamomile is used to soothe, hydrate and moisturize the skin.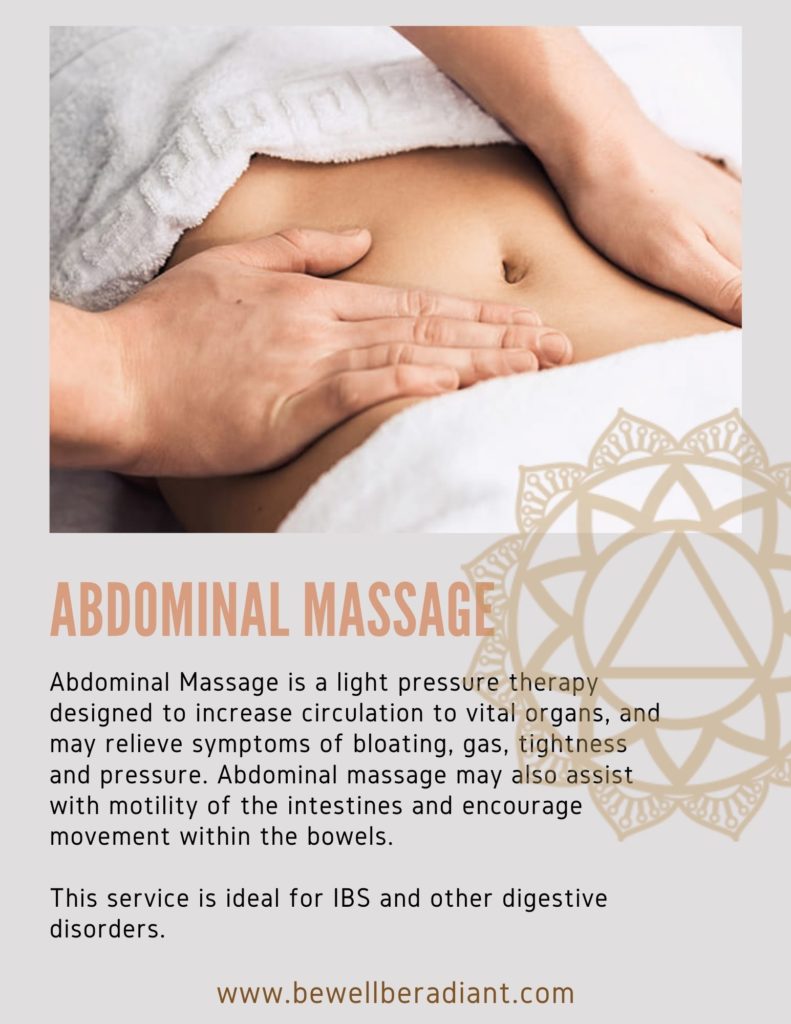 Abdominal Massage is a 30/60 Minute Treatment that focuses on relaxation and relief for gastrointestinal pain and discomfort. A complimentary essential oil blend of Ginger, Fennel and Lemon is used to energetically assist the body in reducing stress that may be associated with abdominal symptoms.
The stomach area can harbor negative emotions, trauma and stress as it is an area of vulnerability. Energetically working this area can be cathartic and very soothing to the central nervous system. After abdominal work, a herbal heat pack will be applied to the area to further encourage the feeling of comfort.
A focused session of Reflexology (foot massage) using Acupressure points for the stomach, large and small intestine meridians will end the treatment to create a feeling of energetic balance.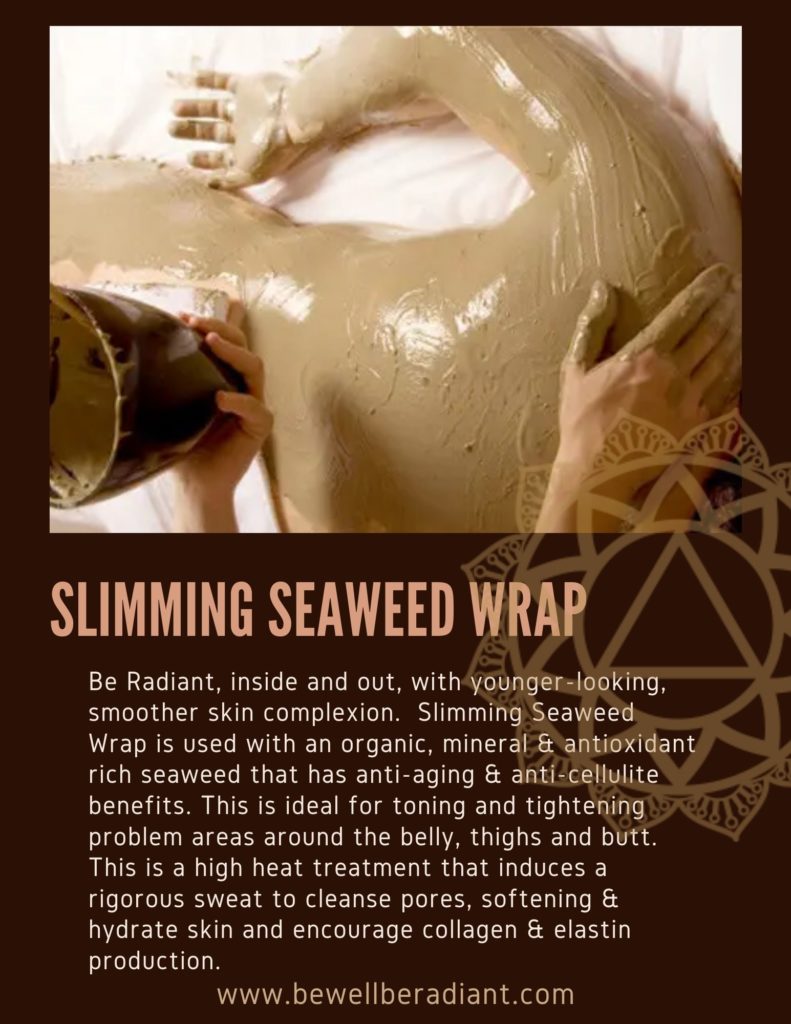 Personally, I am hugely fond of a body wrap and have experienced the unique benefits that a body wrap has to offer. There is something really nurturing about being cocooned, and it induces a deep sense of calmness.
This Slimming Seaweed Wrap is a bit more intense though, but the benefits are worth it. The infrared blanket used in this treatment is set on high to really get a good sustained sweat. The goal is to get the body to purge all that yucky stuff in the skin and really detoxify the body.
I found this glorious (smells kind of weird) Seaweed & Kelp that is harvested from the Atlantic Ocean, off the coast of Maine. It is very antioxidant and mineral rich, which translates into a product that "feeds" your skin with nutrients. The combination of high heat that increases the circulation of the body, and a nourishing application of seaweed, leaves the skin looking smoother, younger, brighter and softer. This reduces the appearance of cellulite, and wrinkles as your skin is left moisturized and clean.
If you haven't had a body wrap before, I encourage you to try at least once in your life.
Caution: This is a high heat treatment and the potency of the seaweed/kelp is not ideal for anyone with heart conditions, claustrophobia, pregnancy, sensitive skin, or if you are taking blood thinners or aspirin.
Custom Aromatic Blends:
Updated Continued Education Certifications:
ACHS: Basics of Essential Oil Chemistry
Efficacy of Essential Oils for Arthritis and Rheumatic Diseases
RVCC: Introduction to Nutrition
AMTA: Thriving in the Age of COVID-19 Panel
Hydrolats: From Analyses to Zingiber- Part 1